I'm gonna to take some serious flak for this one...
There exist in our world certain phenomena, particular trends whose popularity I can only attribute to some collective insanity.  That robotised voice bullshit prevalent in so-called R'nB music, that actually makes me want to commit mass murder
ranks chiefly amongst them.  Believe me, I could type endless diatribes documenting my hatred for such things to much back-slapping and agreement from all of you.
However, such easy targets are not the subject matter of this ed.  You see, there are also many things in this world considered so immune to criticism,  that to even question their greatness would provoke a reaction akin to a Salman Rushdie book signing tour of Iran.
So with that in mind, I have decided to compile a list of the top sacred cows I personally cannot stand.  This being the internet, I'm sure your responses will be reasonably retrained...
Queen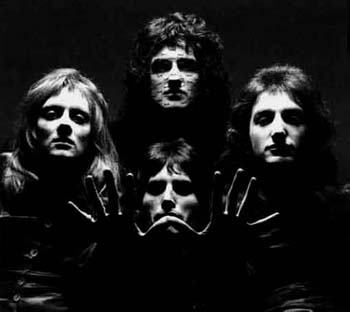 I

have it on good authority (well, from my dad, a fellow Queen hater) that in the 70's Queen were about as popular as Gary Glitter is now.  Oh sure, they were selling records but no one would have admitted to buying them.  They were considered a joke.





All that changed in 1985 with a little thing called Live Aid.  You see St. Bob Geldof had set out on an ambitious plan to single handedly save Africa with a rock concert.  Instead they helped inflict the monstrous ego of Bono on mankind and re-launched the career of Queen.  To this day Africa is still fucked.  Nice going dick.





Suddenly unironic appreciation of Queen became socially acceptable.  Then something even bigger happened.  Freddie died of AIDs and was posthumously promoted into the cannon of greatest rockstars ever.  Queens greatest hits albums shifted millions of units. The world accepted the universal truth, that Queen were in fact, awesome.



But Queen were not awesome.  They were aw-ful and nothing anyone says will ever change that.  I can't quite pin down what it is a find so abhorent about them.  Perhaps it was the pomposity and overblown theatrics.  Maybe it was the haircuts.  It could even have been their apolitcal stance on playing gigs in countries most rational-minded people established were ruled by fucking douchebags. 

I think my principle objection though is Brian May's guitar playing.  That noodly twiddly bollocks really grates on me...



'Legal Highs'


Having crossed paths with the Salvia fanboys before I know what to expect in terms of reaction to this (ZOMG STRONGER THAN ACID LOL).  Bull-shit.  Legal highs are legal for a reason.  They don't get you high.  Believe me I've tried them all; Salvia, Herbal Ecstacy, Purple Ohms, everyone of them a waste of time money and effort.  I've got higher just holding my breath.
So why do people bother?  Is it really that hard to get hold of  good shit?  No.  If you want to trip, grow some fucking shrooms (probably the easiest thing in the world to grow BTW), if you want to get stoned by some weed.  I guarantee you know at least 100 people who know were to get it.
Please people, come to your senses and start breaking the law.
300

Now first of all, time for a confession.  I've never actually seen this movie.  Why you ask?  Because of the internet.  The internet ruined a film I'd never seen before I'd even bothered to download it.

I wasn't that excited about 300 when I first saw the trailers, despite assurances from friends who'd yet to see it that it was bound to amazing.  It just all seemed...well..gay.  Really, really gay.  Not that there's anything wrong with that of course.

Then, almost overnight the adolescent hive mind of the interwebs, inspired by the films latent homo-erotica, created an endless series of  memes so irritating and repetitive they led me to wonder whether humanity was worth saving.

Fortunately, 300 is by all accounts now judged to be old meme, making the internet slightly better than it was a couple of years ago.  I'm still not watching it though.  Ever.