16th June 2008 - A day that will live in infamy.
This is a blog with origins in the death throes of a President. Last June Hillary Clinton, her little ass red raw from several months of covert black cock insertion had finally got tired of the race to the white house, lay herself down and accepted the 'the man's' advances willingly. Forty years ago John McCain was captured by little slant eyed jungle skinnies and force fed daily dosages of oriental cock. Now oriental cock is not long enough to reach the back of the throat. Every day the side of John's mouth was tickled pink by the Japs eye of many Japs. This is how poor John recieved his abnormally weird abscess. Forty years on in 2008 he was still mouth hurt, the increased stress of 'the race' began to take it's toll on his gradually inflammed mouth pocket, and the recurring images of sloppy face fucking were coming back to haunt his fragile senile mind.
Also in the news that month was the world's announcement that the Caribbean Monk Seal was officially extinct, the iPhone 3G was launched and yet another example of group resilience, paranoia and fear was shown when a whole US state went searching for a bright white, non-ethnic, cute all American eight year old girl who was defintitely not hispanic or black was declared missing, only to be found two hours next door later playing 'show me yours and I'll show you mine'.
But one story sealed it for me. It was George Bush's farewell trip to Europe. And the last leg of his whistle stop tour was smack dab in my home city of Belfast on the 16th. For months prior it seemed like my life had been a ticking clock to that day. Eight years of conservatives messing with my head and world, with the internets feeding the engulfing fire had left my mind deluded beyond comprehension. It seemed those eight years had lead to this point in time. This was going to be my time. Fusk Bush in his bullet proof car. No two inch thick window is going to stop George looking out at a young lad giving him a very deserved one finger salute. In your fucking face Bush. I will meet your cavalcade. And you will set eyes upon my single finger. So help me God.
Dawn of the 16th. I wake up bright eyed and bushy tailed. Like some Travis Bickle type figure I rise from my warm bed and ruffle my face slowly. I straighten my back and look gazingly at the wall before me. I'm staring at a calendar. Fifteen crosses are scribbled all over its face. I stand up and walk toward. Grabbing the felt-tip marker from the side I take the cap off and etch a sixteenth cross. This is my day. My time.
I turn around and walk back to my bed. I sit down. I stare back at the calendar. My mouth opens. I mutter incoherently "My name is bobalou, Commander of my destiny, General of fap, loyal servant to the true leader, the Interwebz. Father to a murdered stick insect, brother to a murdered era. And I will have my vengeance, in this life or the next".
After that I did not say a word all day, my head deep in concentration of my planned attack. My mind buzzing with ideas. Where do I go, where will I stand? I am remembered of years ago when the great fucker of fat lips Mr President Clinton made a visit to the Province. As a due courtesy all heads of state must visit the Stormont Castle and only two main routes may be taken to get here. I must make a choice. But which one? It was no use. I would have no way of knowing. I must choose one and stick with it. If I failed then so be it. If I succeded, well, +100 points for bobalou. Security was extremely tight that day in the city. Roadblocks were in place all around the city and dummy runs of blacked out jalopies were seen speeding across red lights. Of course this presence was all due to the sad little ineffectual protests that were held in the city centre that day and because some unknown man of win decided to trail the bedsheets out of his hotpress and take them up into the hills.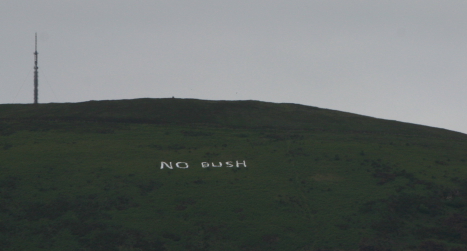 The time had come. I turned on the Tv to get any updates or slight hints of George's movements.
'Where are you little rat? You can't hide from destiny'
I channel hopped, bbc news 24, itv, channel 4. Then onto BBC. What was on? Well, being right in the middle of the Euro 2008 football tournament Germany were busy goose-stepping all over Austria' subhuman ideals.
So, in brief I watched the football that day. George Bush never got to see my waiting finger of disgust. But my eight years of frustration did come to a halt on the 16th. But not in the way I had anticipated. It was more karmic. I didn't need to vent my anger out to George. That day my anger dissipated. That day I realised something when I decided I'd rather watch Germany perform a soccer holocaust over Austria than go teach Bush a lesson in manners. I learnt that day I don't really give a flying fuck about Bush. Or his war. Or his raping of the world. Infact no amount of butthurt will sore me so much that I'd be willing to give up my precious time. No harm done can take me away from what is truly important. A bit of contentment and solemn happiness. Whether it be watching the game, having a few beers or just chilling in front of your favourite website with it's fledgling community, don't take life too seriously. You've still got impotency to deal with.