A short and sweet guide to downloading stuff off of YouTube (and other sites).
 This one is pretty simple if you have the right stuff in place. This will help you nab videos from the net.
What you will need:
Firefox
(there are probably other ways to do it, but there are plug-ins that will do it for you)
the
Video DownloadHelper
add-on. (There is also one to DL in
HD/MP4
, and one that
Fast Video Download
which is supposed to work on a few sites.) I like VDH because it works on almost every site I have been to that I have wanted to rip video (most of the time I turn YouTube into mp3).
and to convert the file to something other then FLV, I use a converter that does everything for me, 
Total Video Converter
. If you support small software, buy it! (
or don't
). 
Install the add-on, put the icon somewhere you can see it, and go through the options to pick a place to download to - do not use the built in converter, haven't gotten it to work right (and it needs to be registered). For help on the install/setup step, they have all the documentation you need
here
.
The Steps:
1.  Surf around YouTube until you find something you like. Let's try this piece by Aesop Rock called "."
2. at the end of the URL, place this code minus the quotes: "&fmt=18" and hit enter. In some cases there is even higher quality (&fmt=22). This will get you to the high quality version even if there is no HQ link. So,  becomes 
3. Wait for the video to load. I know, it is annoying, but better then having and incomplete file.
4. Click this guy: 
 which will start moving when it has detected content it can download.
5. Click the small arrow to the right of the icon (▼), and a drop down of the available files will be shown.
6. As you scroll over the list, the item you have highlighted should also be highlighted in the browser.
Note: If you press the CTRL key while selecting a file to download, the actual URL of the file is copied to the clipboard. You can paste the address to an external download manager if you want to.
7. Download the video (I usually choose the flv and the youtube item), and browse to where they were downloaded. I check to see which audio I like better.
8. At this point you can keep it the way it is since Media Player Classic should have no problems playing it, but I want a format I can use, which is mp3.
Rant: I don't like mp3s and I will tell you why, they have diminished the quality of recording. For most listeners on those shitty little earbuds that are turned way too high, they won't notice. But if you have even a decent pair of headphones you can tell the difference between 128 and 256 kbps. If you play a low quality mp3 on a decent sound system then you get the "gay snake" effect. That is a term I picked up in my days as a roadie. It refers to the irritating hiss that the compression creates. I try to use other formats (such as ogg) when possible, but more then likely they are just going onto a CD for my car's stereo (it reads mp3 and you can fit quite a few on each disc), so I don't have to really worry about the quality issue here.
Rant part 2: Sometimes the mixing on the album is to blame. Take Metallica's new album "Death Magnetic." It is a decent album, not their greatest, but good. Well, except for the mushed sound that comes from the "loud" trick. That is when artists make their music louder then average so that it stands out on the radio and such, but this also muddles the sound in a similar fashion to compression. There is a lot of loss. (Read the "
Criticism Regarding Production
" near the bottom). In this case, the tracks from Guitar Hero are better quality then the ones on the album. How fucked up is that?
Convert
:
9. Launch Total Video Converter. When it is loaded, drag and drop the file into the open space in the upper left-hand corner.
10. It will pop-up with a new screen giving you all of your choices. Most cell phones take 3gP (I suggest AAC), and I think the newer version even has pre-configured settings for certain portable devices (I don't have one, so I don't look here). You can select what you want, but if you just want the audio, then click the "audio tab."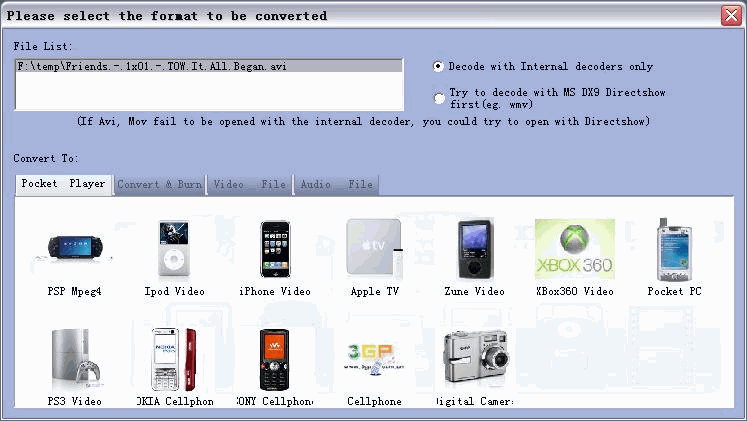 11. I choose mp3 so it can go and make my commute more tollerable. I don't have it in front of me, but it should give you the option to adjust the settings to your liking.
12. If you want to do a batch then repeat this process until you have all of them ready to go. Go through your list and check the boxes of the files you want to rip/convert and click the convert now.
Times
:
The time to download the YouTube item will vary based on size, but as expected, the average song is about 5 MB. The time to rip the audio into mp3 is only a few seconds, and the time it takes to convert an hour long program (40-45 minute tv show) is about 10-12 minutes.
That is the basics to getting the music you want until the (usually) better quality album comes out, which you should buy so Metallica doesn't cry.