Well, I think I am starting to go crazy. It's the first time since I was 14 that I haven't done some type of work, and I think being this idle is starting to get to me. I don't always know the day/date. I can't remember the last time I went out other to go to the grocery store. I
This pair has done a lot on film and television. They are known for pushing the line and making us laugh at some ridiculous stuff. I present to you, the subject of this week's reflection:
Matt Stone and Trey Parker
You might not know their names or their faces, but you know their work. I will do this chronologically and end with their most recent work.
---
First up is:
South Park
Well, actually, they started with a short called
Jesus vs Frosty
in 1992, as a student project, and did a few others here and there before the creation of South Park in 1997. The inspiration for the characters are people they knew growing up in a quiet suburb of Denver, Colorado. They hit it bit with the 1997 release of
South Park: Bigger, Longer, and Uncut
, a musical movie. The show is currently on break in the middle of it's 13th season.
The first should have 95% of what is out there, from seasons 0 through 12 including the movie. The second will allow you to grab the last couple of episodes of season 13.
---
In 1994 (still before South Park), they teamed up for another student project:
Cannibal the Musical
(imdb)

(isohunt)
I haven't seen this yet, so I can't vouch for it, but it is on my list of things to check out. The story revolves around Alferd Packer, the sole survivor of an ill-fated mining expedition tells how his taste for gold was replaced by that of human flesh.
---
Then there was a failed attempt at their first show,
Time Warped
. Soon after they struck it big with
South Park
. In late '97 they came out with this gem:
Orgasmo
(imdb)
(no seeds, isohunt)
Sorry, but I can't find a working link for this great movie. Maybe one of you can help out here.

Plot: Joe Young was a simple young man trying to spread the word of the Book of Mormon when he picked the wrong house to preach at! The owner, a porn director named Maxxx Orbison, tells his henchmen to kill the guy at the door who interrupted their scene, but Joe fights off the guards with great skill, which impresses Maxxx so much that he offers Joe the lead role in the movie he's making at the moment: Orgazmo, which is about a sex superhero who fights crime with his Orgazmorator and ChodaBoy, his sidekick. Joe, against his beliefs, takes the job so that he can pay for the wedding he plans for he and his fiancee, who he doesn't tell about his risque new acting job. However, when the movie becomes an amazing hit just about everywhere and he finds out that Ben (ChodaBoy) has created a real Orgazmorator, Joe is in some serious hot water!

Again, sorry for not finding anything (no seeders), but it is worth checking out if you can find it.
 
---
Next came
BASEketball
(imdb)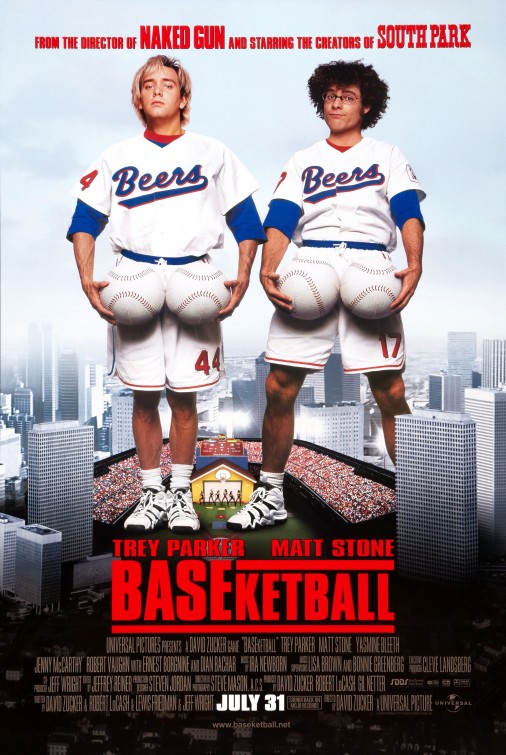 (isohunt)
Plot: Two losers from Milwaukee, Coop & Remer, invent a new game playing basketball, using baseball rules. When the game becomes a huge success, they, along with a billionaire's help, form the Professional Baseketball League where everyone gets the same pay and no team can change cities. Coop & Remer's team, the Milwaukee Beers is the only team standing in the way of major rule changes that the owner of the Dallas Felons wants to institute.
---
A short lived television show mocking the former president
That's My Bush
(imbd)
(mininova)
Somewhat dim President George W. Bush's White House more closely resembles the set of a sitcom than real life, down to the laugh track.
---
and finally, another great movie:
Popular Broadway actor Gary Johnston is recruited by the elite counter-terrorism organization Team America: World Police. As the world begins to crumble around him, he must battle with terrorists, celebrities and falling in love.
---
(click to pop)