Er.. this is my attempt at a quick and dirty first blog in a series. (And my first blog evar!) I'll try not to be too heavy-handed, keep it light, keep it quick and include pics. (Cause I know Big hates tl;dr blogs.)
A bit about me:  I studied art history, history, anthropology and natural science in college.  Why so bookish?  I don't know.  My brain is sort of like a lint roller, and it skims over subjects and picks up tufts of information.  Unfortunately this same brain also can't remember where her keys are.  Either way, I developed a deep and abiding love for and interest in a variety of useless things like Hiberno-Saxon, Romanesque, Gothic and baroque art and architecture.  Add a dash of metallurgy, ancient and medieval weapons and military history and you've got a complete waste of space with a bachelors degree.
So... who likes art?!  No one?  This should be fabulous!
I decided to start with Sandro Botticelli primarily because he's easily accessible.  I don't want to drone on too much about the man himself, because that's the dull shit.  Here's the quick and dirty:  Early Italian Renaissance (that's around the 15th century) and sort of a bridge between earlier stylized gothic painters (think typically "medieval" sort of stuff..) and the reimagining of classic art (think greeks) that would come in the High Italian Renaissance.  Not too fact dense, yeah?    The other really fabulous thing about choosing Botticelli is that boobs often make an appearance. 
A brief statement about art appreciation:  I basically think that anyone can look at something and appreciate it for what it is.  It doesn't require formal education.  It doesn't require any profound response.  Paintings are for your eyes.  Use them.
On to the pics:
So.  This is Botticelli's "Mars and Venus."  For those of you who don't do the mythology thing, Venus (the Roman Goddess of love) was married to Vulcan (the Roman God of the forge), but she had it wicked bad for Mars (the Roman God of warfare).  Her love was requited, and they spent shocking amounts of time  engaged in mutual... admiration.  Here you can see a placid and post-coital Venus watching over Mars as he sleeps. (Typical male.)  Those little saytr guys are playing round with his weapons and armor and this is sort of a representation of the way that love can disarm defensiveness.  The tryst between Venus and Mars is a fairly popular subject in art, as it is the consummate representation of passion, and of two like minds coming together.  Unfortunately, this also makes Vulcan a cuckold and Venus an adulteress, but it's still hawt anyway.  I do like the detail of the cloth wrapped around her leg.  Nicely done Sandro.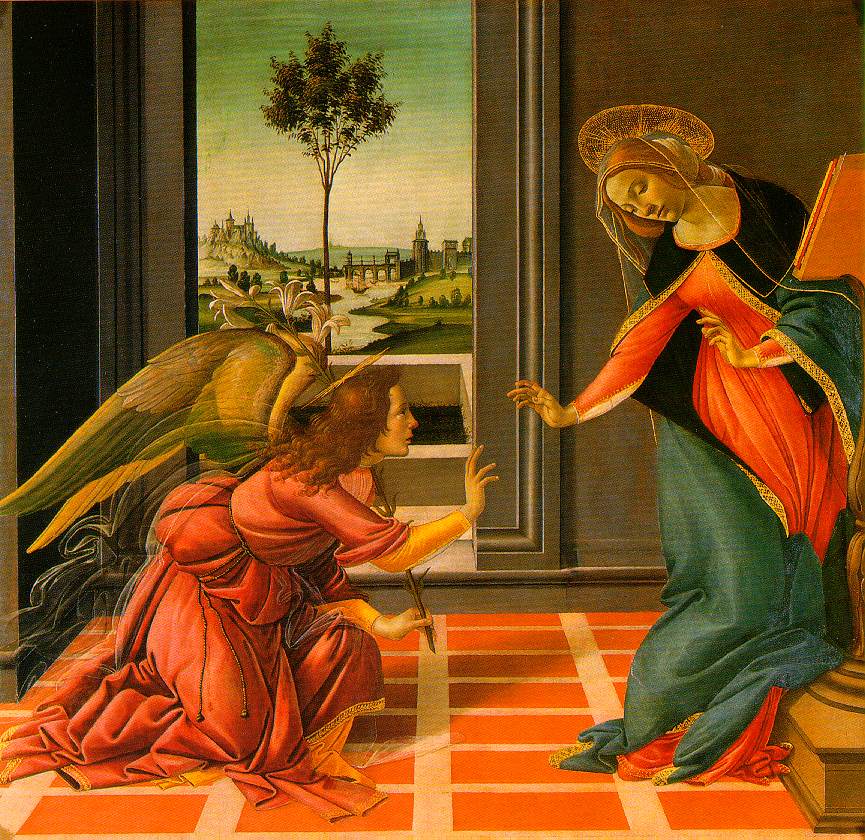 This is Botticelli's "Annunciation."  For those of us raised outside the Christian faith, this is when Gabriel shows up to tell The Virgin Mary that the Holy Spirit got her up the duff.  Gabriel is holding lillies in his left hand, and this would have been a clue to onlookers that Mary was present, as she's often represented by a white lily and clad in blue.  Iconography ftw.  In addition to the masterful gentle expression on the Virgin's face, the best bit is the way their hands are poised near each other.
Not too painful, right?  I'll leave you with this: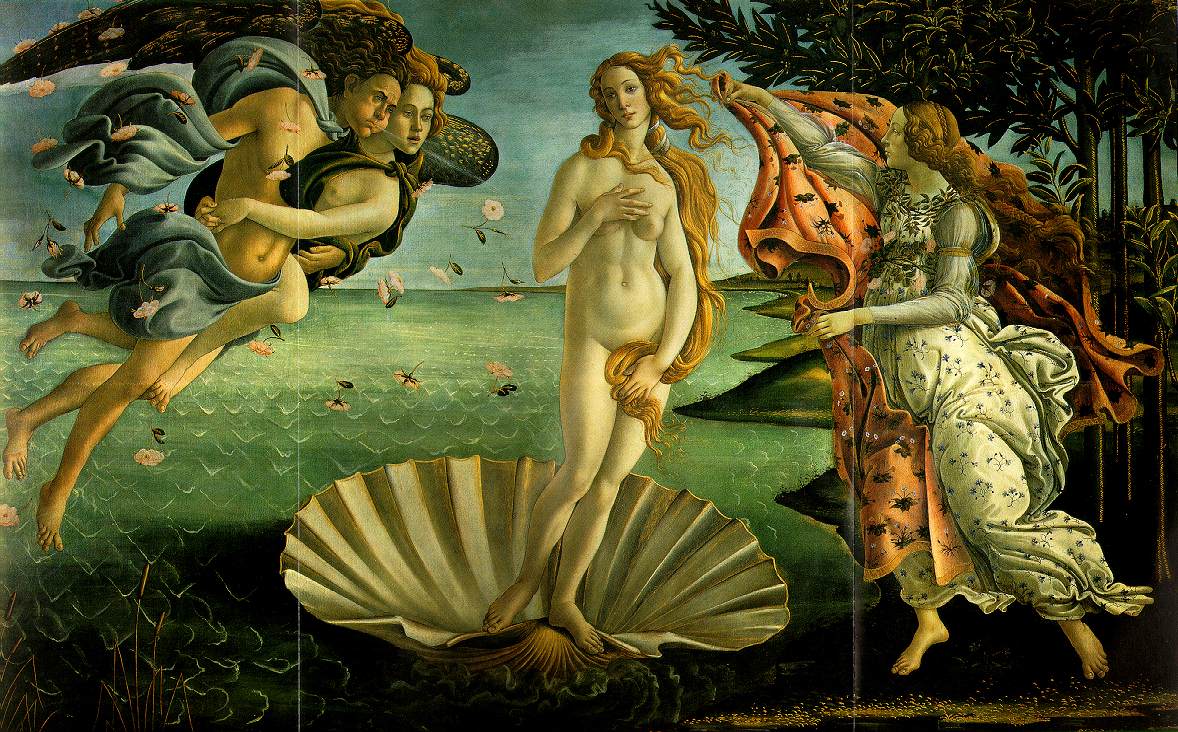 This is Botticelli's most famous work, "The Birth of Venus."  Basically the myth surrounding her birth is that she sprang from the seafoam in the waves near Cyprus.  This one doesn't really require much analysis, but again the details of her face, her hair and the falling flowers are exceptionally nice. (Also included: Boobs!)
I think that'll do for now.